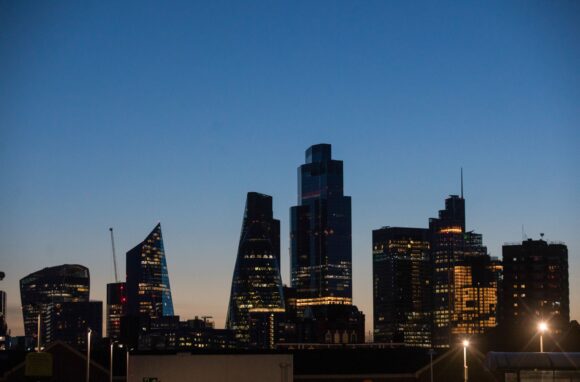 Insurers loved the UK government's long-awaited plans to free up billions of pounds of their capital. But after the celebrations have come fears that regulators could nudge the changes in a more cautious direction.
Reforms to City of London rules, announced in December, centered on rolling back the European Union's Solvency II capital regulation to open up investment opportunities in areas ranging from green innovation to housing. Over £100 billion ($124 billion) could be directed to socially useful projects by letting firms invest their customers' retirement savings more widely, the Association of British Insurers said at the time.
But now industry executives are worried. They fear regulators, who strongly opposed the reforms, may be able to curtail the measures. That's because the Treasury largely sided with insurers' calls for deregulation, but it also proposed extra powers for the Prudential Regulation Authority, which is in charge of implementing the new approach.
UK Insurers, Banks Hope for Substantive Financial Services Reforms in 2023
According to some insurance executives, who asked not to be named because discussions on the topic have been private, these powers could allow the PRA to pursue its long-held view that switching more money into infrastructure assets — which are harder to value and sell — could endanger people's savings, increasing the risk that taxpayers would need to bail out failed companies in the future.
Sam Woods, the PRA's chief executive officer, told politicians Monday the new powers would not be used to undermine elected officials. "Parliament should assume we will use them but not to reverse engineer what we were trying to achieve in another way," he told the Treasury Select Committee.
Some in the industry fear that might not be the intention, but it could be the effect — at least in part. Under the changes, the PRA will be able to publish the results of individual firms in annual stress tests, allowing customers to more easily assess their investment decisions. That could inhibit some firms from being bold.
The watchdog will also be able to require firms to assign a senior manager to take responsibility for risk calculations on assets such as green Technology or equity release mortgages, which may not have external ratings from firms such as Moody's or Fitch.
Added Burdens
The additional powers for the PRA could have a "significant impact," according to Sheikh Yasir, head of capital solutions at consultancy 4most and former employee of the Bank of England, where he led a review on Solvency II. "We expect increased scrutiny of valuation and internal ratings of illiquid assets by the PRA," he said. "The requirements related to senior managers and stress testing will also put more responsibility on firms to reassess their valuation methodologies, risk management systems and investment strategies."
There will be also political factor, as Bank of England Governor Andrew Bailey highlighted at the same parliamentary hearing this week. The PRA is to report to Parliament about whether it believes the industry is behaving within the watchdog's risk tolerance. It will be "very important," Bailey said, to make these reports to the Treasury committee "regularly."
Others are more optimistic that the reforms will help to create one of the main Brexit benefits so far in financial services. One senior insurance executive, who asked not to be named because it followed private talks, said there was a shared aim across the government and City to direct more of Britain's savings into urgently needed investment. The reforms could be up and running as soon as January 2024 if everyone co-operates, the person said.
David Otudeko, the Association of British Insurers' head of prudential regulation, added: "We need to work together because there are real world challenges behind our desire to make these investments."
Parliament will vote on the changes. Woods said he hoped MPs would think about the rising risks, but also that they should support the whole package — including the PRA's new powers. "There has been a difference of view, a very public one, between us and the government on this topic but we do need to move forward," Woods said. "We can't carry on with this debate forever."
–With assistance from Laura Benitez.
Photograph: Skyscrapers in the City of London square mile financial district in London, U.K., on Thursday, Feb. 18, 2021. Photo credit: Chris Ratcliffe/Bloomberg
Copyright 2023 Bloomberg.
Topics
Carriers
Europe
Uk
Interested in Brexit?
Get automatic alerts for this topic.