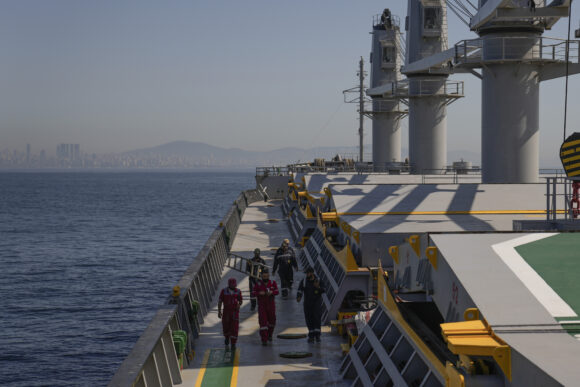 Lloyd's of London insurer Ascot is once again quoting on its cargo insurance facility for the Black Sea grain corridor, the facility's lead underwriter said on Wednesday after Russia announced it would resume its participation in the accord.
"In response to today's news, the Ascot-led 'AsOne' facility is quoting again, effective immediately, and we have already issued quotes this morning," Chris McGill told Reuters by email.
Ascot said on Monday it was suspending the cover after Moscow suspended its participation in the U.N.-brokered grains export deal on Saturday.
Other insurers also provide cover through the Ascot facility, which also includes broker Marsh.
Ships entering the three Ukrainian ports that have been part of the UN-backed agreement, are usually required by their banks to have various insurance policies in place including hull and cargo war cover, which is renewed every seven days.
Two insurance industry sources said other underwriters had also resumed offering cargo cover for grains shipments, which had been temporarily paused this week. Hull cover had been quoted although it was unclear if any insurance was taken due to the uncertainty.
"Now that the inspection process is restored, we will see more (underwriters) coming back," one source said.
Moscow announced the sudden reversal after Turkey and the United Nations helped keep Ukrainian grain flowing for several days without Russian participation in inspections.
(Reporting by Carolyn Cohn and Jonathan Saul, editing by Louise Heavens and Tomasz Janowski)
Photograph: Crew members of the cargo ship Med Island, which came from Ukraine loaded with grain, prepare the ship for inspection by U.N. officials, while it is anchored in the Marmara Sea in Istanbul, Turkey, on Oct. 1, 2022. Photo credit: AP Photo/Khalil Hamra, File.
Topics
Carriers
Excess Surplus
Lloyd's
Trucking
Interested in Carriers?
Get automatic alerts for this topic.