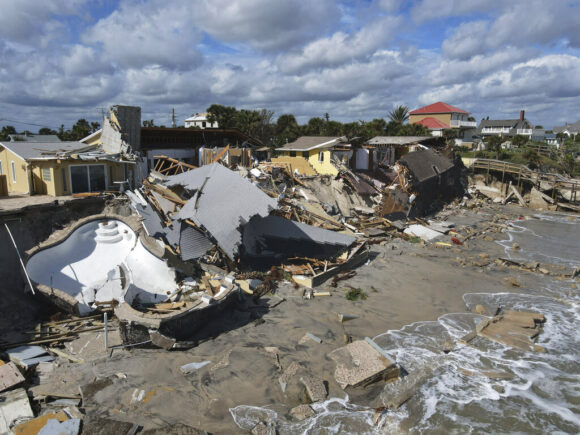 New

You can now listen to Insurance Journal articles!
Catastrophe modeler RMS said private market U.S. insured losses from Hurricane Nicole are estimated at less than $2 billion, with a best estimate of $1.6 billion.
This estimate represents insured losses associated with wind, storm surge, and precipitation-induced flooding. Losses reflect property damage and business interruption to residential, commercial, industrial, and automobile lines of business, and consider sources of post-event loss amplification (PLA), inflationary trends, and non-modeled sources of loss.
Based on an analysis by its model, RMS said privately insured wind and storm surge losses will be between $1.2 billion and $1.8 billion from Nicole, the 14th named storm of the Atlantic hurricane season and the second to make landfall this season.
Additionally, RMS said losses for the National Flood Insurance Program (NFIP) from Nicole will be less than $300 million, and primarily in Florida and Georgia.
"Even though Hurricane Nicole was much less intense than Hurricane Ian a few weeks prior, it exhibited a large wind field that impacted many of the same areas in Florida," said Jeff Waters, staff product manager, North Atlantic Hurricane Models, RMS.
"RMS Event Response teams estimate that roughly 98% of postal codes in Florida impacted by Nicole were previously impacted by Hurricane Ian," he added. "Similar to other overlapping events from previous seasons, such as Hurricanes Ida and Nicholas in 2021, and Laura and Delta in 2020, we expect the overlapping nature of Hurricane Ian and Nicole to introduce significant uncertainties in the loss attribution and claims settlement process."
Sarah Hartley, manager of event response at RMS, said a storm like Nicole would normally not include notable PLA impact but since it occurred right after Hurricane Ian, "the same factors influencing PLA from Ian also apply to Nicole, including shortages of labor, materials, and claims adjusters. This is an example of compounding PLA effects."
The 2022 Atlantic Hurricane season ends November 30.
Photo: Homes in Wilbur-By-The-Sea, Florida are damaged and collapsed after the shore on which they stood was swept away, following the passage of Hurricane Nicole. (AP Photo/Rebecca Blackwell)
Topics
Catastrophe
Natural Disasters
Profit Loss
Hurricane
Interested in Catastrophe?
Get automatic alerts for this topic.